COVID-19 In-Person Worship Services & Guidelines
We have begun our Phase I return to in-person worship, as of May 10, 2020. However, we will continue to live stream our worship services for those who are sick or may not feel comfortable returning at this time.
Please review the guidelines and video below, so you can be prepared.
1 IN-PERSON SUNDAY WORSHIP EXPERIENCE
11:00 AM – All ages (effective 06.21.20)
IN-PERSON MONDAY FOCUSED PRAYER
7:00 PM – All ages (effective 06.01.20)
IN-PERSON WEDNESDAY BIBLE STUDY
7:00 PM – All ages (effective 06.03.20)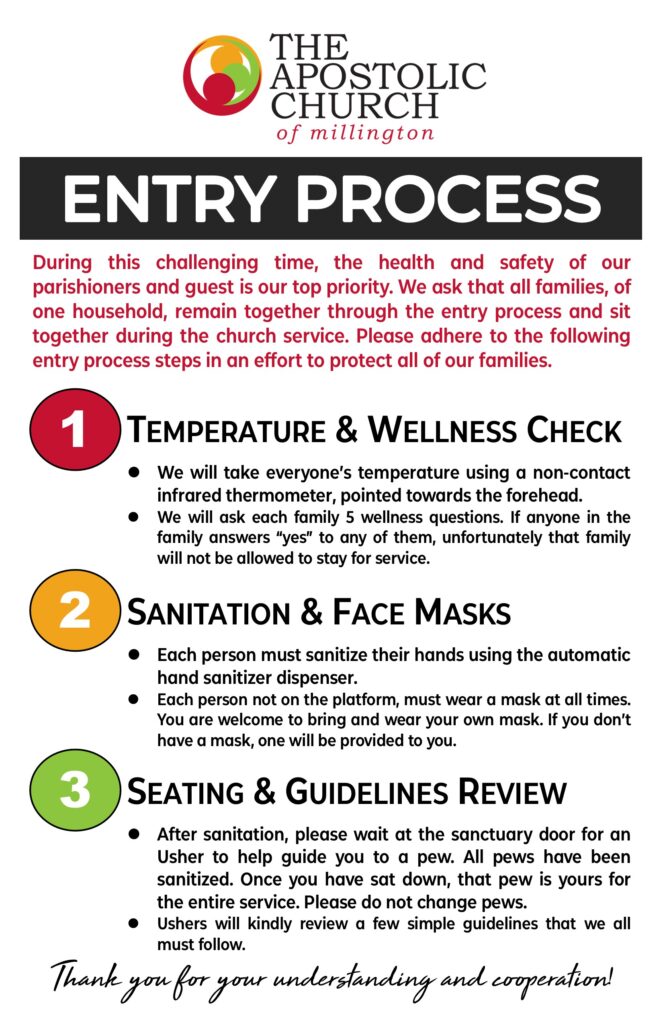 COVID-19 Reopening Guidelines
We are excited to be able to worship The Lord inside our church building with the body of saints. While the COVID-19 pandemic has created many unusual and challenging times, The Apostolic Church (TAC) has remained vibrant and faithful to the work of God. Much of our country and communities are still being asked to follow guidance from federal government agencies, Tennessee Governor Bill Lee, and health officials. TAC plans to adhere to those guidelines, in a phased approach, as best we can in an effort to keep our congregation, families, and community safe. We appreciate your understanding and support during these unprecedented circumstances.
Phase 1: Beginning May 10, 2020
Beginning Sunday, May 10, 2020, TAC will be holding regular live services in our church under a limited, phased-in approach. We are asking that the following be followed:
We will hold two services each Sunday at the recommended 50% capacity. By holding two services we are giving more saints the opportunity to worship live each Sunday. Our first service will begin at 10:00am and our second service will begin at 12:30pm. The 10:00am service will be for ages 50 and above – this will help protect those who are more vulnerable, and the 12:30pm service will be for ages 49 and under.
We will continue to broadcast our services live on our TAC website, Facebook Live, YouTube, and Roku for those who can't make it due to health or other concerns.
No separate classes will be held on Sundays including: Sunday School, Youth, New Discipleship, etc. All families will be in the sanctuary. We will adhere to all social distancing guidelines (see section below).
We will use Zoom for New Discipleship/First Steps
There will be no Coffee Connect in the Fellowship Hall.
No small group activities will be held onsite or offsite.
Our Monday night Family Prayer meeting will continue to be streamed online live.
Wednesday night Bible Study will continue to be live streamed until further notice.
Offering collection: We will not pass the offering satchels or march around to give. Instead, we encourage online giving and will have collection boxes in each foyer that you can drop your envelope in.
Our daily devotions will continue throughout the week.
We will adhere to all recommended social distancing guidelines (see section below).
Social Distancing Guidelines
Families must sit together with at least 6 feet of space between each family. We will have pews marked off to help guide families where to sit.
All social distancing guidelines must be followed including refraining from handshakes, hugs, or other close contact with others. Must maintain a 6 feet distance between families at all times (entering the building, fellowship, exiting the building).
All attendees should remain at your seats during the service and alter call.
Only Pastor Sheppard and the TAC ministerial team are permitted to lay hands on people.
When church is over, families should exit the building in a manner to maintain 6 feet apart from others. You may fellowship in the parking lot as long as social distancing guidelines are followed.
Do not attend church if you are sick or have other health related concerns.
TAC's Commitment to a Safe Environment
The safety of our congregation is of the upmost importance. Please know that TAC is doing everything we can to ensure our building and the areas inside are cleaned and safe for your family and our guests.
We encourage everyone to where a mask will provide facial masks to anyone attending our services
We will have cleaning stations set up around the entrances and restrooms which will include: hand sanitizer, disinfecting wipes, etc.
We will be asking each person to submit to a temperature check upon entering the building. If you or a family member has a temperature equaled to or greater than 100.4 that family will not be allowed to stay.
We will screen all persons with the following questions:

Have you been in close contact with a confirmed case of COVID-19?
Are you experiencing a cough, shortness of breath, or sore throat?
Have you had a fever in the last 48 hours?
Have you had new loss of taste or smell?
Have you had vomiting or diarrhea in the last 24 hours?

Our TAC Greeters, Ushers and Sanitation Team will help ensure that these practices are taking place throughout the service schedule.
The Sanitation Team will completely sanitize the building, including frequently touched areas, after each service.